INDOOR DIGITAL THERMOMETER (WHITE)
Why You Need It?
People now are used to checking the temperature on their phone. This is convenient, but it's not always accurate. Installing a thermometer around your home or even in your car, is a wonderful way to get the most accurate temperature and humidity, so that you know exactly what you're dealing with before you go out.

Why It Is Worth Buying?
Multifunctional Digital Thermometer
The digital thermometer allows you to check the professional-level mold, humidity, temperature and dew point quickly and easily. With it, you can adjust room humidity levels to protect your possessions and improve room comfort as well as never need to worry about getting the wrong ambient conditions.

Wide Measure Range
Both temperature and dew point temperature range from 0 to 50 Deg.C ( -32 to 122 Deg.F ), while the humidity ranges from 20 to 95 percent RH, covering all the weather conditions. What's more, Fahrenheit degree and Celsius degree are available to exchange by pressing the button.

Highest and Lowest Temperature Recorder
The digital thermometer can show the highest and lowest temperature and humidity over the past 24 hours by pressing the " MAX.MIN " button, telling the change of the weather.

Simple Comfort Level Indicator
You can check the indoor comfort conditions at a glance with the humidity and mold level icon. It easily indicates too dry, dry, comfort, wet or too wet indoor conditions. Moreover, you can set a humidity alarm and a mold alert, knowing the change of the real-time ambient condition.

Compact Design and High-quality Material
Thanks to its compact size, you can easily install it everywhere you want. Equipped with a small holder, you can hang it in the bedroom, living room, study, or any other places. Material determines the look and the service life. This thermometer adopts the advanced ABS material, not only lightweight but durable.
Material: Plastic
Thermometer Type: Digital
Package weight: 0.16 kg
Product Size(L x W x H): 12.00 x 8.50 x 2.00 cm / 4.72 x 3.35 x 0.79 inches
Package Size(L x W x H): 13.50 x 9.50 x 3.00 cm / 5.31 x 3.74 x 1.18 inches
Package Contents: 1 x Thermometer, 1 x English User Manual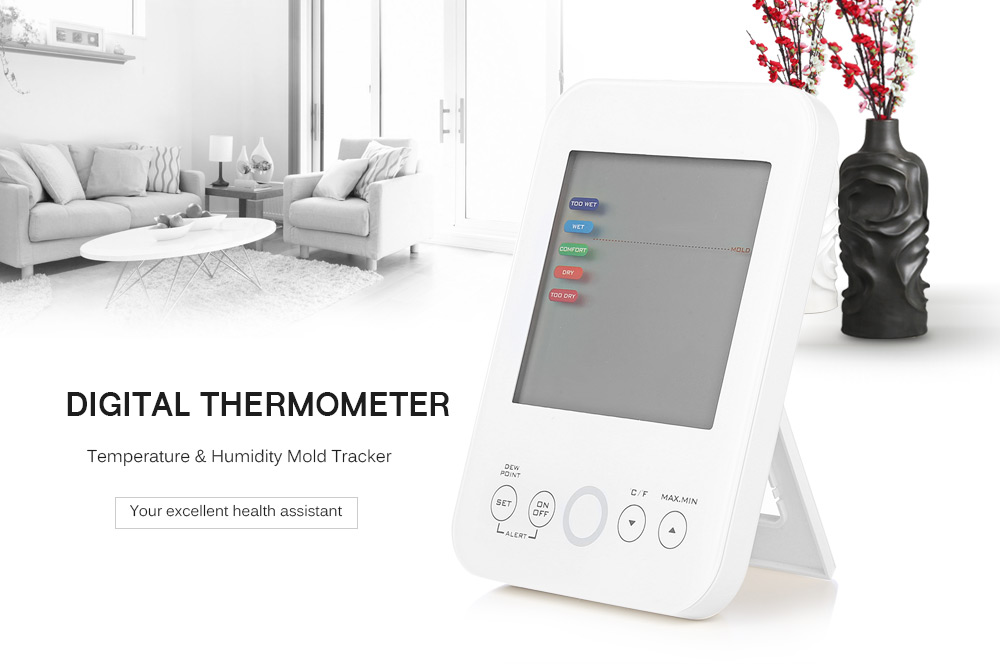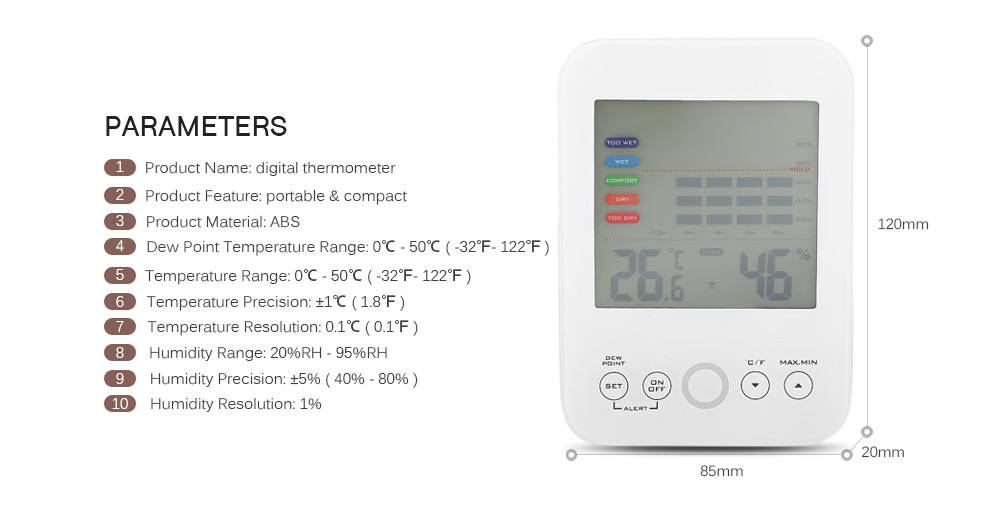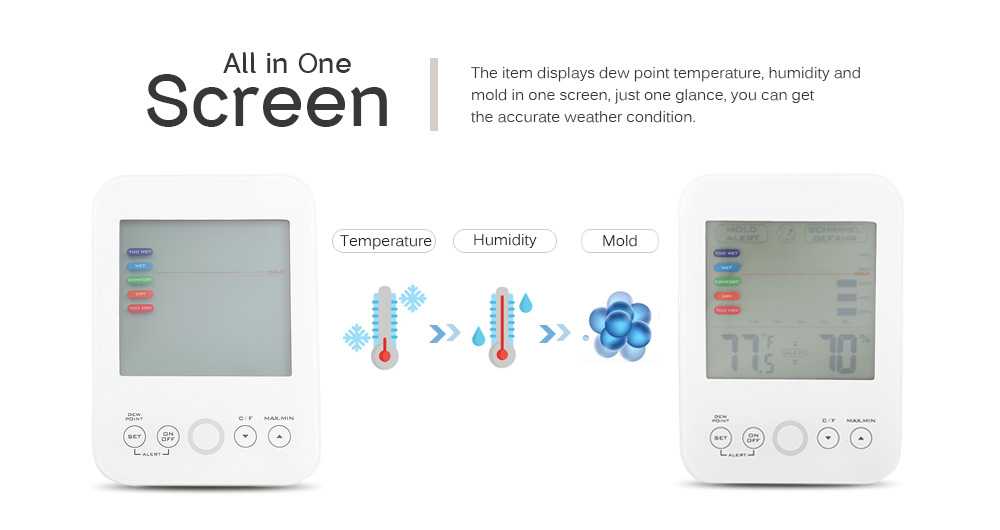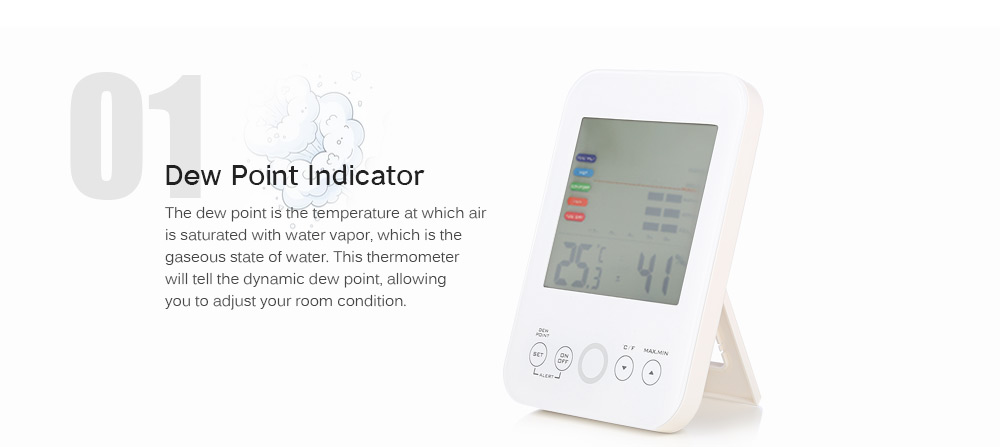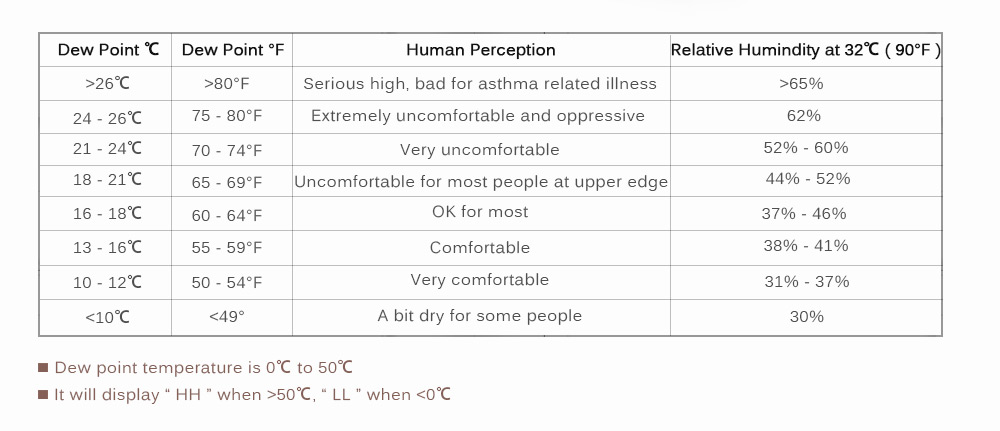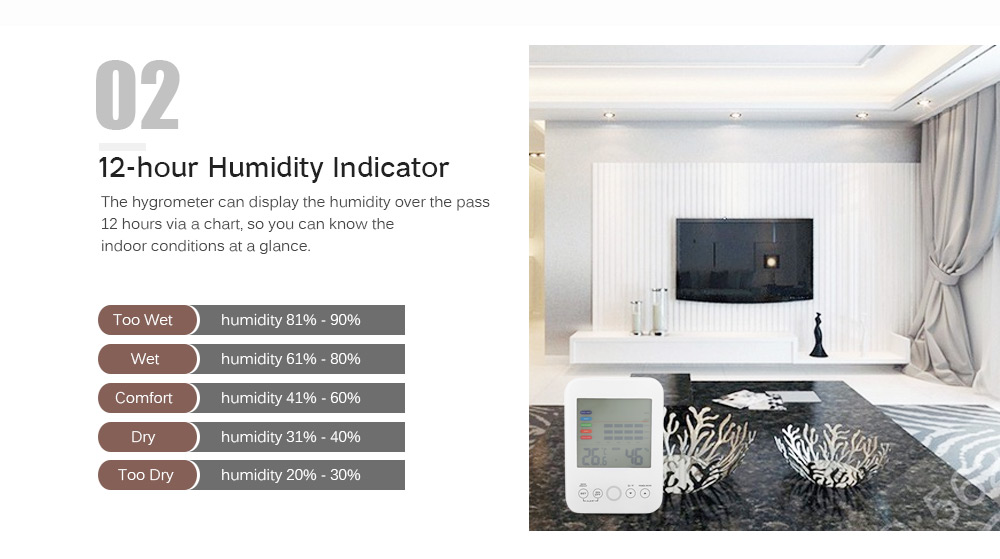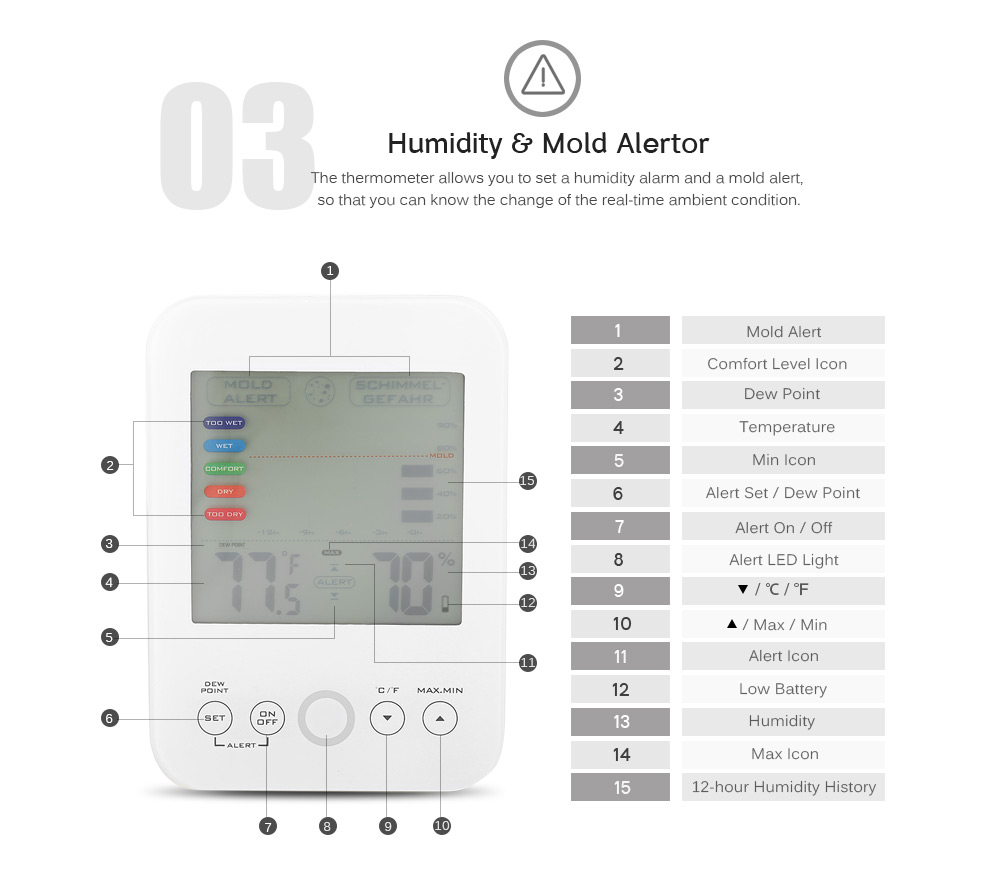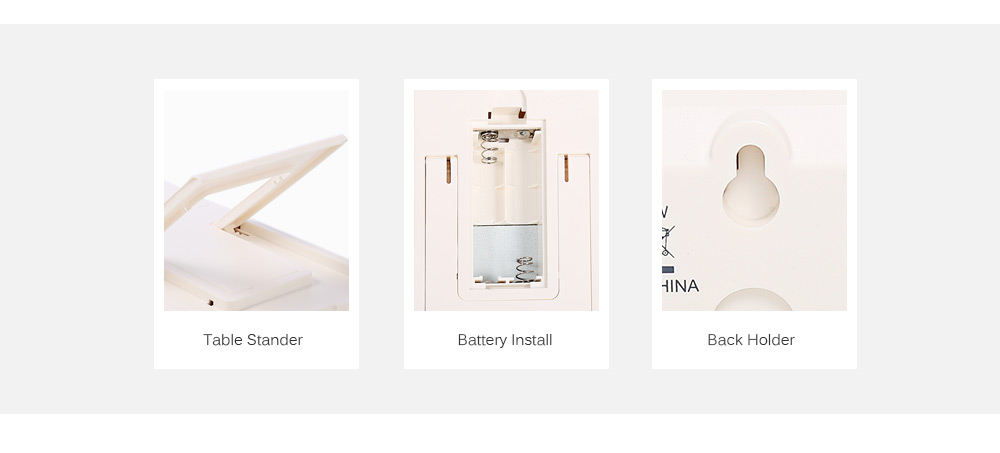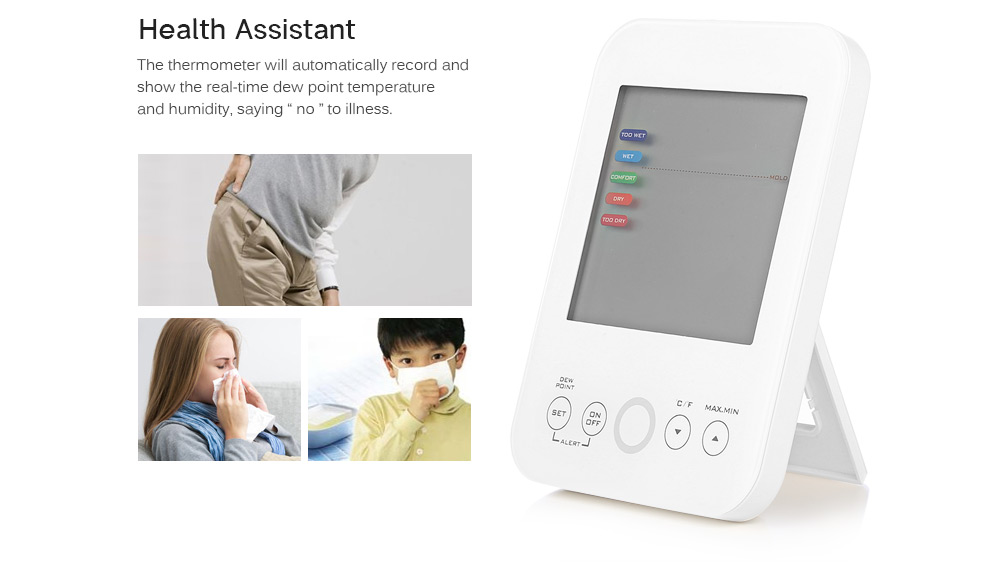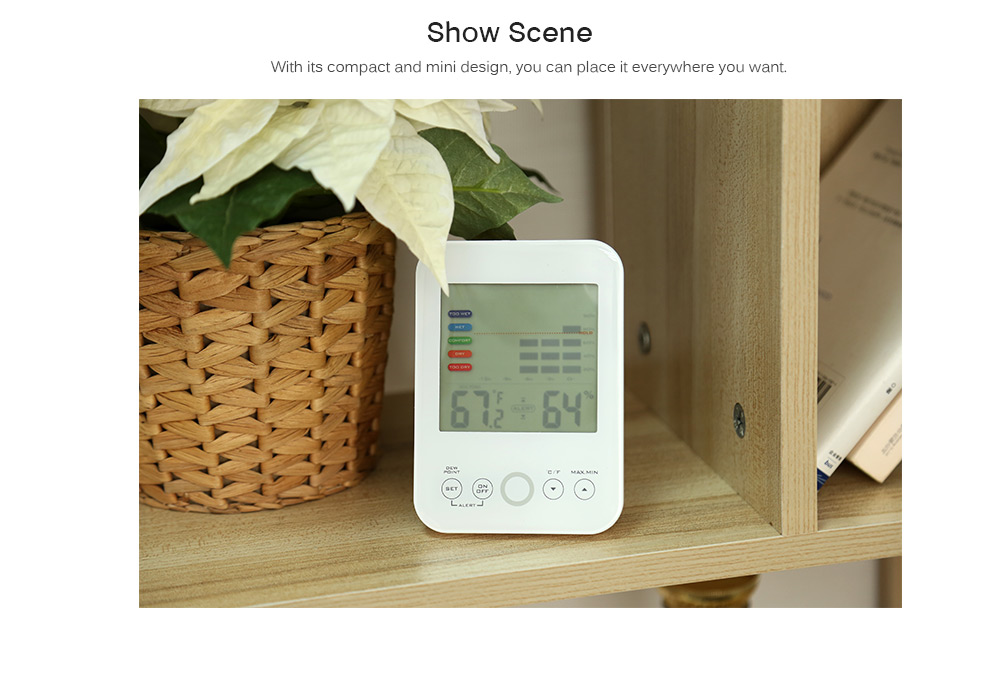 ---